The Secret of Healthy Snacking
Light snacks that pack a nutritional punch!
It is important to think carefully about your diet, during pregnancy, and to follow the advice of your own team of healthcare professionals. Your body shape, weight, lifestyle, intolerances or allergies, and general health should all be taken into consideration. But there are lots of simple, common-sense steps that you can take towards healthy eating, too.
During pregnancy, cravings for foodstuffs weird and wonderful are well documented. But the appeal of foods that have previously been firm favourites can start to fade, too. During the early weeks of pregnancy, for many women, morning sickness can be an issue that affects the appetite. And, during the later weeks, heartburn and a general sensation of heaviness and discomfort can also play a part.
Eating smaller meals, more frequently, can help to ease those uncomfortable physical feelings. And a repertoire of light, healthy and tasty snacks can help to tempt the most jaded of palates.
Choose foods that pack a nutritional punch. Think fresh and dried fruits, crunchy vegetables, dairy products and wholegrains. These will help to boost your intake of protein, calcium and iron while, at the same time, helping to regulate blood sugar levels - to alleviate the nausea of early pregnancy - and easing the heaviness of the final stages of pregnancy that may be exacerbated by constipation.
Check out our healthy snacking ideas, here: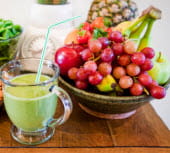 A couple of wholegrain crackers with a small piece of pasteurised cheese
Dried fruit, like Sunsweet prunes, that can be kept in your bag for when energy flags
Fresh fruit
Hard-boiled eggs which are a good source of protein
Crunchy vegetable crudités with healthy dips like hummus and tomato salsa
Nuts; grab a selection like walnuts, almonds and pistachios to tempt your taste-buds
The occasional treat; after all, a little of what you fancy does you the world of good!